The Plaza

Attractive. Functional. Pioneering.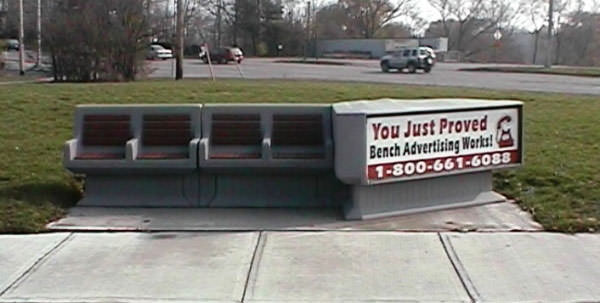 The Plaza bench will provide your municipality with a versatile and attractive amenity that can accommodate both your seating and waste needs. The unit is made entirely from a vandal-resistant material that will ensure its durability and aesthetic appeal for many years to come.
The Plaza is a true pioneer in the street furniture industry. At the time of its inception, the Plaza was considered the first unit of its kind designed with equal consideration given to comfort, functionality and aesthetics. The unit features armrests on all seats and also attractive slats that not only enhance the appearance of the unit but serve to keep the seats dry as they provide natural drainage. The ad face on the unit stretches across the waste receptacle component, which features a revolving flap that keeps waste inside while keeping water, snow and other residue out. The Plaza has clean, neat lines which give the unit a modular aesthetic appeal. This same modularity allows for various seating and receptacle configurations, which will provide your municipality with not only one of the industry's most remarkable units, but also one that is guaranteed fit your specific needs!
Model
Plaza
Material
Polyethylene
Colors
Various
Finish
Matte
Dimensions
Dependent on the chosen configuration.
Typical configuration of 4 seats with ad component/waste receptacle
14′ (L) x 4′ (D) x 38″ (H).
Ad component is angled 337 degrees to the curb.
Weight
369 lbs.
Installation
Bolted to concrete surface or recycled plastic pad.
Board Messaging
Area per single face: 71″ x 20.5″.